News Analysis: Ahead of holidays, Biden tries to untangle supply chain mess
WASHINGTON — 
President Biden wants to save Christmas — but he may not be able to.
He announced Wednesday that the Port of Los Angeles would operate around the clock to alleviate a logistical bottleneck that has left dozens of container ships idling off the California coast and Americans waiting longer to get products manufactured overseas.
Longshoremen will work through the night and major retailers and shippers have pledged to clear cargo off the docks faster than before, changes that are intended to speed the flow of toys, electronics and other gifts to American doorsteps during the holiday season.
"Today's announcement has the potential to be a game changer," Biden said as he acknowledged that people are worrying about whether everything from "toasters to sneakers to bicycles to bedroom furniture" was going to be available.
However, the plan addresses only one link in a global supply chain largely outside of Biden's control, meaning he faces potential blowback from unhappy shoppers while also lacking the power to fix the mess.
Biden can't force overseas factories to keep churning out products. He can't hire more truck drivers to pick up cargo when it arrives. And he can't stop the pandemic that continues to disrupt operations all over the world.
The bottom line: Americans want their stuff, and there's very little that Biden can do to get it to them.
Matthew Sherwood, global economist at the Economist Intelligence Unit based in London, described the White House's actions as "fairly limited."
"I think the administration is doing what it can, but the reality is there's not that much it can do beyond what they're announcing," he said.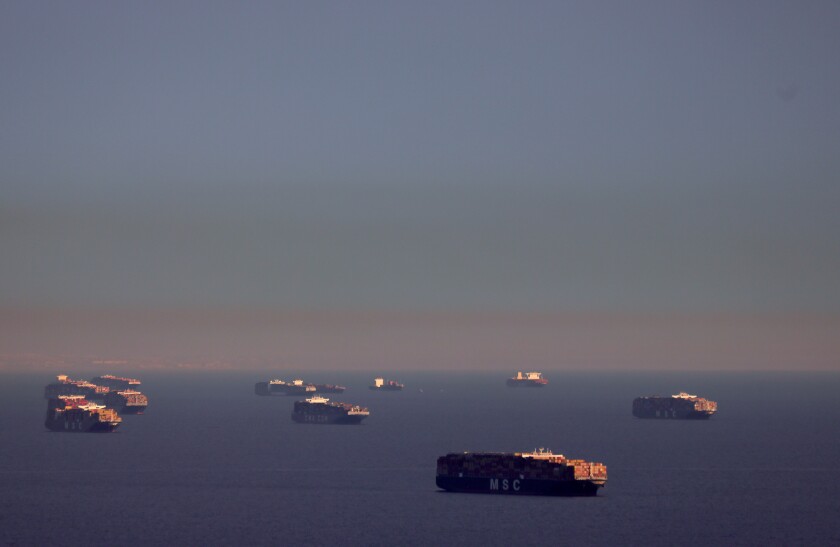 Nick Vyas, executive director of USC Marshall's Kendrick Global Supply Chain Institute, commended Biden's effort to bring various groups together and said more private sector companies would need to heed his call to step up operations if they want to address the problem.
"If all of these were to click, I think we'll see some results in the next two to three months," he said.
Whether or not the supply chain problems are Biden's fault may not matter to voters, who tend to project their displeasure toward the person in charge.
Biden faces a similar challenge with the coronavirus. His administration has made enough vaccines available for every American, but millions are still unwilling to get their shots, prolonging the deadly COVID-19 pandemic — and driving down the president's poll numbers.
White House Press Secretary Jen Psaki said recently that souring public opinion is "a reflection of people being sick and tired of COVID," but that the president understands "the buck stops with him."
When it comes to the worldwide flow of goods, Psaki demurred on Wednesday when asked if the administration can ensure that holiday packages would arrive on time.
"We are not the Postal Service, UPS or Fedex," she said. "We cannot guarantee."
Psaki was also cautious about promising Americans that the situation would improve quickly, especially at a time when analysts suggest that problems could persist into next year.
"I don't want to make a prediction because it's not just one issue," she said.
Jeremy Rosner, a Democratic pollster, described supply chain problems as more of an annoyance than a crisis at this point, suggesting any political fallout would be limited.
"It's not shortages of things that are making it impossible for people to put food on the table or drive to work," he said.
However, Rosner acknowledged that a difficult holiday season could add to "a frustrating autumn of discontent," including controversies over the withdrawal from Afghanistan and unhappiness over the lingering pandemic.
The current gridlock reflects a confluence of challenges. Over the years, supply chains have become increasingly vulnerable to disruption as companies have narrowed and accelerated the time for sourcing and transporting goods.
Then the pandemic upended the global economy, plunging the world into a recession and leading to a burst of demand for certain goods.
Jeffrey Sonnenfeld, a Yale University management professor who regularly meets with and surveys top corporate executives, said Biden's announcement will be welcomed in corner offices. Until recently, he said, major retailers and transportation companies believed they could handle supply chain problems on their own.
"It's only now that the private sector has conceded defeat. They're asking for help and getting it. It's a big breakthrough, symbolic and in substantive ways," he said.
One of the biggest economic threats is that supply chain bottlenecks and various shortages are sparking higher inflation. The government said Wednesday that inflation rose last month, with consumers paying 5.4% more for goods and services compared with a year ago, the highest rate in more than a decade.
White House economists and policymakers at the Federal Reserve have viewed the recent surge in consumer prices as temporary, but inflation has been running well above the Fed's comfortable level now since spring. Persistently higher inflation could cause complications for the Fed's interest rate policies, and it could influence consumer spending and wage growth. Already analysts have sharply marked down economic growth for the second half of this year, and 2022 is likely to bring slower growth.
The supply chain snarl has presented Biden with another opportunity to push his infrastructure plans, which are stalled on Capitol Hill as Democrats sort out how much money they want to spend on expanded safety net programs. The legislation, which passed the Senate but is awaiting a vote in the House, includes $17 billion to modernize and expand port facilities.
Biden described the legislation as "the biggest investments in ports in our history."
"We need to think big and bold," he said Wednesday.
But even if the measure makes it to the president's desk for his signature, the full benefits will likely be years away.
"In the longer run, there are infrastructure investments that could expand system capacity, but that's not a quick fix," said Phil Levy, chief economist at Flexport, a San Francisco-based freight shipment and customs brokerage company.
DJI announces compact, modular, and magnetic Action 2 camera
DJI has announced a follow-up to its Osmo Action camera, and it's got a completely new design — the Action 2 drops the Osmo name and focuses on modularity with a suite of additional parts and accessories that attach to the camera magnetically.
The camera module itself is small (it's 39mm square and 22mm deep) and includes a 12MP sensor capable of 4K recording, a lens that provides a 155-degree field of view, and a 1.76-inch OLED touchscreen covered by Gorilla Glass. Using magnets, you can attach another touchscreen (which also boosts the battery life and adds an array of microphones), an extra battery, or a variety of mounts that let you attach it to tripods or GoPro mounts, or even wear the camera as a necklace.
Speaking of GoPro, any action cam is going to face comparisons, and the Action 2's specs fall short when put side by side with those of the recent Hero10 Black: it can do 4K at 120 frames per second like the Hero10 but lacks any higher-resolution options (the Hero10 can do 5.3K60), and its 240fps super slow-motion runs at 1080p instead of the GoPro's 2.7K.
It's worth keeping in mind that the Action 2 is tiny in comparison — it weighs just 53 grams, which is almost exactly a third the weight of the Hero10. DJI also includes 32GB of built-in storage (expandable with a microSD card), something the GoPro lacks.
There's also the system of magnetic accessories DJI is working on, which lets you customize your camera in a way that's not really possible with the GoPro. If you need a second screen or more battery, you can just snap them on — and then take them off when you want a compact or discreet camera. Other accessories, like a headband or magnetic ball-mount adapter that can be attached to tripods, are similar to GoPro accessories but will (in theory) be easier to attach to and detach from the camera.
The Action 2 also has action cam table-stakes features like electronic stabilization, horizon leveling, and the ability to livestream or be used as a webcam, as well as some neat tricks like a color temperature sensor that DJI says will help produce better colors in complicated lighting situations or underwater.
Comparing the Action 2's price with GoPro's isn't straightforward, due to GoPro's pricing model and the DJI's modularity. You can get the Hero10 for $400, but that requires having a $50-a-year subscription — otherwise, the camera is $500. The Action 2 power bundle costs $399 and includes the camera, power module (which extends your record time to 180 minutes versus the camera's 70 and adds an extra microSD card slot), a mount, and a lanyard. DJI tells me you can't buy the camera by itself, which seems like a shame.
If you want to replicate the Hero10's built-in front-facing screen, you'll have to go for the $519 dual-screen bundle, which includes the same things as the power bundle (but swaps out the battery module with the screen one) and adds a ball-joint adapter as well. While that's technically more than the GoPro's non-subscriber asking price, the Hero10's lack of built-in storage means that you'd probably make up the price difference buying a microSD card anyways.
DJI says that the dual-screen bundle will be coming on November 2nd, and the power combo, along with most other accessories, will be coming in "mid-November."
Nor'easter: 490,000 outages as Massachusetts hit by strong winds
Nearly 500,000 homes and businesses in Massachusetts were without power early Wednesday as a powerful nor'easter continued to batter the East Coast.
The National Weather Service in Boston warned of a «dangerous situation» near and southeast of I-95, the East Coast's main highway.
«Winds gusting over hurricane force across southeast Massachusetts. Numerous downed trees,» the service warned on Twitter. «TRAVEL IS NOT RECOMMENDED early this morning in southeast MA.»
The storm has already caused flooding in New York and New Jersey, where emergency services have carried out dozens of rescues.
Coastal areas of Massachusetts are now bearing the brunt of the storm, with reported wind gusts of up to 97 mph that have brought down trees and power lines.
The Massachusetts Emergency Management Agency said close to 490,000 customers were without power as of 8:30 a.m. ET
Most of these, almost 300,000, were in Barnstable and Plymouth counties, which cover Cape Cod and an area south of Boston.
All schools on the Cape have been closed, according to the Barnstable County Regional Emergency Planning Committee. And images and video posted on social media showed downed trees and other debris littering roads. 
In Boston, downed trees disrupted parts of the Red Line and Mattapan Trolley service, according to the Massachusetts Bay Transportation Authority, which deployed replacement shuttle buses.
The Massachusetts Emergency Management Agency warned people to «avoid downed power lines, check on neighbors, and use generators outside away from buildings.»
The Massachusetts Steamship Authority, which runs ferries from the mainland to Martha's Vineyard and Nantucket, said it was canceling all services until further notice. It warned people not to attempt to get to its terminals and to stay off the "extremely dangerous" roads.
The harbormaster in Plymouth said some boats had broken free from their moorings.
On Tuesday, New York City saw almost 4 inches of rain in lower Manhattan and and Brooklyn in 24 hours — which are amounts approaching the rainfall typically seen in a month.
The weather service said the window for the strongest winds along the coast was between 7 a.m. and 8 a.m. local time, «with somewhat lesser winds farther inland.»
It said early Wednesday that the wind would «slowly diminish today but it remains windy» as the storm pushes off the coast.
The Northeast won't have much time to dry out, as there's more rain in the forecast for the region on Friday.
The DJI Action 2 is like a modern GoPro Session with magnets #Shorts